Wal-Mart's Scott retiring as CEO, Duke to succeed
NEW YORK (Reuters) - Wal-Mart Stores Inc , which is gaining market share amid an economic downturn, said Lee Scott will retire as chief executive early next year and will be succeeded by Mike Duke, who heads its international operations.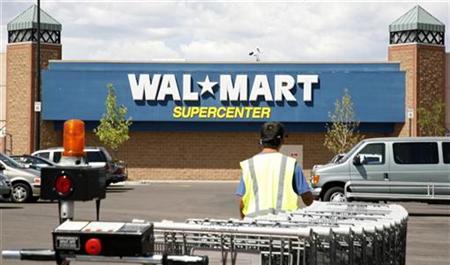 The world's largest retailer also promoted Eduardo Castro- Wright, 53, a rising star at the helm its U.S. operation, to vice chairman, effective immediately.
The surprise announcement on Friday, landing one week before the crucial Thanksgiving holiday shopping weekend, comes as Wal-Mart builds on its strength as a discount retailer in a contracting U.S. economy. [nN13360393]
Duke, 58, who will become Wal-Mart's fourth chief executive officer, also takes over as the retailer increasingly looks overseas to fuel expansion as U.S. growth slows.
"We are confident that the strategy we have in place is the right one for future success and Mike has been actively involved in developing and executing this strategy," said Wal- Mart Chairman Rob Walton, a member of the company's founding Walton family.
The CEO change is effective Feb. 1, 2009, Wal-Mart said.
Analysts said the succession plan was announced as Wal-Mart gets back on track, boosting profits at the expense of rivals by persistently focusing on low prices.
"I think it's good. I'm happy to see it," said Joseph Feldman, a retail analyst with Telsey Advisory Group in New York, of Duke.
Feldman said the timing of the announcement was "a little strange," but recalled that, at Wal-Mart's analyst meeting in October, there was almost a sense that Scott was saying farewell and "finally had the upper hand over Wall Street."
He said Castro-Wright's promotion could also signal the executive as a future CEO candidate.
"Wal-Mart is pushing well over $400 billion in sales," said Thomas Nyheim, portfolio manager at Christiana Bank & Trust. "Their business model is probably the only one that's working."
Wal-Mart shares were up more than 2 percent at $51.91 at midday.
ROCKY TENURE
Scott, 59, has served as CEO since January of 2000, with much of his tenure marked by struggles and a stagnating stock price. From 2000 through 2007, the company's stock fell 31 percent, with most of the drop coming shortly after his promotion. The stock is up 6.7 percent year-to-date and has outperformed a nearly 49 percent slide in the Standard & Poor's 500 Index.
When the U.S. economy was roaring along, Wal-Mart found itself losing out to trendier stores such as Target Corp and constantly under attack from groups that accused it of mistreating employees and driving competitors out of business with its massive expansion plans.
"Lee Scott has made life harder for Wal-Mart workers," said David Nassar, executive director of Wal-Mart Watch, a union- backed group critical of the retailer. Scott's policies have "diminished Wal-Mart's reputation and hampered its ability to grow," he said on Friday.
A foray into fashion and higher-end merchandise failed to draw wealthier shoppers and its profit took a hit last year when it cut prices to clear out poor-selling merchandise. Some company-watchers thought at the time that the missteps could cost Scott his job.
But Wal-Mart has returned to its low-cost roots and reined in U.S. expansion, which has paid off as the economy soured and cost-conscious consumers come back.
Scott, who joined the company in 1979 as an assistant director of logistics, has also tried to portray Wal-Mart as a world leader committed to tackling tough issues like soaring health-care costs and cleaning up the environment.
Scott will remain chairman of the executive committee of the board, receiving an annual salary of $1.1 million, and will be employed through Jan. 31, 2011.
MAJOR IN THE MAJORS
Duke has overseen Wal-Mart's international operations since 2005 and is fond of saying the retailer should "major in the majors" -- focus expansion on global markets where it can become a big player instead of simply planting a flag.
Under that strategy, the retailer exited its business in Germany and South Korea in 2006 and has pursed growth in countries such as China, Mexico and Canada. Its international operations accounted for almost 25 percent of its $374.5 billion in total sales last year.
Before overseeing Wal-Mart's international unit, Duke was the head of Wal-Mart's U.S. operations. He joined the company in 1995 as the senior vice president of logistics.
Wal-Mart will announce a new head of international operations by the end of January, when its fiscal year concludes.
(See here for "Shop Talk" -- Reuters' retail and consumer blog)
(Additional reporting by Deepa Seetharaman, editing by Matthew Lewis and Andre Grenon)
© Thomson Reuters 2023 All rights reserved.