Talbots and Chico's post weaker results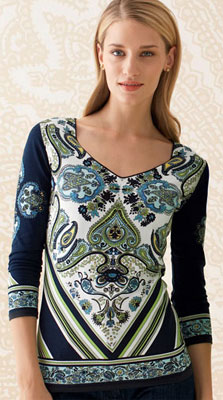 Talbots spring-summer 2009
ATLANTA (Reuters) - Apparel retailers Talbots Inc and Chico's FAS , which cater to women aged 35 and over, reported weaker quarterly results on Tuesday as their customers cut spending in the softening economy.
Talbots posted a wider third-quarter loss as sales fell 14 percent, while Chico's profit fell 92 percent as it marked down prices.
The deepening economic crisis has hurt consumer confidence and led to a dramatic decline in spending on apparel.
Meanwhile, teen retailer American Eagle Outfitters , reported a 57 percent drop in third-quarter profit on Tuesday as sales at stores open at least a year declined 7 percent.
"While we have had positive customer response to our reinvigorated Talbots brand merchandise and marketing efforts, this was not enough to offset a steep decline in consumer traffic and spending that we and most others across our entire industry have experienced," Talbots Chief Executive Trudy Sullivan said in a statement.
Talbots, which is majority owned by Japan's Aeon Co and has been undergoing a restructuring, said third-quarter net loss came to $167.2 million, or $3.13 a share, for the third quarter, compared with a loss of $9.4 million, or 18 cents a share, a year earlier.
Excluding restructuring and impairment charges, the loss at Talbots came to 21 cents a share, in line with what analysts expected on average, according to Reuters Estimates.
Earnings at Chico's were $2 million, or 1 cent a share, down from $23.6 million, or 13 cents a share, a year earlier.
Excluding an income tax benefit, Chico's had nearly nil profit. Wall Street, on average, had been expecting a loss of 2 cents a share, according to Reuters Estimates.
Talbots sales fell to $357.3 million, hurt by the loss of revenue from the Talbots Kids, Mens and British operations, which the company has shuttered. Chico's sales fell 5 percent to $394 million.
Same-store sales fell 13.9 percent at Talbots and 13.4 percent at Chico's.
Earlier this month, Talbots withdrew its earnings outlook as it announced that it was trying to sell its underperforming J. Jill clothing brand. On Tuesday, it said it wouldn't comment on J. Jill until a definitive agreement was reached.
NEW CREDIT PACTS
Talbots also said it reached agreement with two banks to convert existing uncommitted working capital lines into committed lines, a move that it said will stabilize its liquidity.
The company said Mizuho Corporate Bank Ltd MZFGAI.UL and Sumitomo Mitsui Banking Corp SUMSYD.UL agreed to convert their $75 million and $50 million working capital lines of credit to committed lines, pending due diligence.
Earlier this year, lenders stopped providing Talbots with letters of credit used to back financing for overseas merchandise, but Aeon stepped in this summer, agreeing to a $50 million credit facility to aid Talbots' turnaround plan.
Additionally, Chico's said its capital position was aided by a new $55 million credit facility with SunTrust Banks , $10 million more than a prior facility. The new credit pact will expire in November 2011.
Talbots declined to comment on the current quarter, citing the difficult environment.
Chico's shares were up to $2.41 in premarket trading before the opening bell from their $2.35 close on the New York Stock Exchange on Monday, while Talbots was up to $2.20 in early trading from a Monday close of $2.12.
(Reporting by Karen Jacobs with additional reporting by Alexandria Sage in San Francisco; Editing by Steve Orlofsky)
© Thomson Reuters 2023 All rights reserved.