Richemont confident will weather economic downturn
By Katie Reid
ZURICH (Reuters) - Luxury goods group Richemont said it was well positioned to cope with the economic downturn as the rich still spent lavishly, but a softening in the United States weighed on its stock.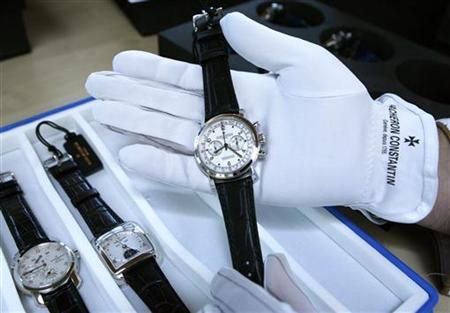 By 0826 GMT (9:26 a.m. BST), shares in Richemont, the world's second-largest luxury goods group, had fallen 3.8 percent to 62.15 Swiss francs, in line with shares in Swiss rival Swatch Group .
Richemont, whose brands include Van Cleef & Arpels, Jaeger-LeCoultre and Dunhill, is seeing signs of a slowdown in the U.S. market, Chairman Johann Rupert said in a statement prepared for the group's annual general meeting.
Analysts noted that the organic growth rate had slowed in July and August compared with the first three months of the year.
"The figures (for the first five months) showed the expected slowdown in comparison to the very strong first quarter but with organic growth of 18 percent (they are) still very strong, which means July/August organic sales were up 15 percent," said Vontobel analyst Rene Weber, who has a buy rating on the stock.
But Weber said the negative currency impact should be smaller in the second half of the year, adding the focus would now be on Richemont's move to become a pure luxury player with the disposal of its British American Tobacco stake.
TOP END STILL BUY
Sales from April to August rose 11 percent at actual rates, the same pace as in the year-ago period, slightly ahead of the average analyst forecast of 10 percent in a Reuters poll.
"To date, the top end of the luxury market - where Richemont's Maisons are predominantly positioned - has not been affected," Rupert said.
"That is not to say that Richemont is immune from a slowdown but we do believe that we are better placed than many to weather difficult times ahead," he said.
The group, whose high-end brands also include Cartier jewellery and Piaget watches, said sales in Europe rose 17 percent, while sales jumped 19 percent in the Asia-Pacific region. But sales fell 8 percent in Japan.
"European sales were particularly strong in France, the U.K. and Switzerland, which benefited from strong tourist traffic from emerging market economies," Rupert said.
Gloomy consumer sentiment does not yet seem to have hit luxury goods groups as they benefit from a rise in deep-pocketed customers in countries like Brazil, Russia, India and China, who are spending on upmarket fashion, watches and other accessories.
At constant exchange rates, Richemont's five-month sales rose 18 percent, compared with a 17 percent constant-rate gain in the same period last year.
Richemont, which is controlled by South Africa's billionaire Rupert family, generates most of its sales outside Europe but reports in euros, making it sensitive to exchange rate swings such as this year's gains in the euro against yen and dollar.
In August, the group said it would spin off its stake in British American Tobacco and that it would repackage its luxury business as a Swiss-listed company to be called Compagnie Financiere Richemont (CFR).
BAT shares will distributed on or around Nov 3 if the move is approved by unitholders at meetings held on Oct 8 and Oct 9, Richemont said.
Richemont shares are trading at around 14 times expected 2009 earnings, in line with its main rival LVMH .
(Editing by Sue Thomas)
© Thomson Reuters 2022 All rights reserved.