Mulberry says British style captures mood
By Mark Potter and Tresa Sherin Morera
LONDON/BANGALORE (Reuters) - It may sell luxury goods, but Mulberry Group believes its "understated British style" and a new range of slightly cheaper bags have captured the mood of recession-hit shoppers.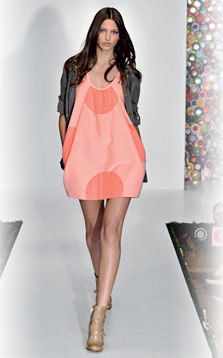 Mulberry Spring-Summer 2009
The leather bags specialist (MUL.L) said UK like-for-like sales leapt 21 percent in the first 10 weeks of its new financial year, helping to send its shares up 9.2 percent to 71 pence at 9:22 a.m.
"We feel there's a move away from... extravagance. That's almost become unfashionable," Chairman and Chief Executive Godfrey Davis told Reuters.
"Our sort of rather understated British style, authentic but fashionable... seems to be hitting a good note."
Davis said the group's new range of Mitzy bags, which sit towards the bottom of its 300 to 700 pounds price band, were selling particularly well, and it was also benefiting from a surge in tourists taking advantage of the weaker pound.
Mulberry said it beat forecasts with profit before tax of 4.2 million pounds for the year ended March 31. That was down from 5.2 million the year before, largely due to increased investment in new stores.
The group is planning for a tough year. It expects wholesale orders to be down 15 percent for the autumn/winter season and down 4 percent for spring/summer 2010 as retailers cut orders to cope with lower demand.
Group sales rose 14 percent to 58.6 million pounds in the year ended March 31, including a 15 percent rise in wholesale sales, a 15 percent rise in UK retail sales and a 2 percent increase in UK like-for-like sales.
The jump in recent UK like-for-like sales was led by a surge in demand at "off price" stores, which sell discontinued ranges at lower prices. Sales at full-price stores were up 11 percent.
Altium analyst David Stoddart raised his profit forecast for the current fiscal year to 2.9 million pounds from 1.8 million.
Mulberry said stock levels had almost doubled to 14.8 million pounds because of lower-than-expected second-half sales, but it had adjusted purchasing with an aim to reducing stocks to normal levels by the end of March 2010.
Davis said high stocks would not lead to more discounting.
Gross profit margins were flat at 60 percent in the year just ended, helped by an increased proportion of retail over wholesale sales, which carry a higher margin.
Mulberry kept its final dividend at 2 pence a share.
(Editing by Mike Nesbit)
© Thomson Reuters 2022 All rights reserved.