Moss Bros falls on profit warning
LONDON (Reuters) - Following is a round-up of key small cap movers on the London stock market on Monday.
2:31 p.m. BST - Moss Bros falls on profit warning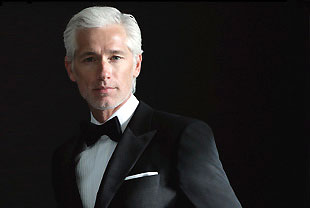 Moss fall-winter 2008/2009
Shares in Moss Bros slide 12 percent to 16.75 pence after the men's fashion retailer warns on its full-year profit, saying like-for-like sales for the 44 weeks to November 29 fell 3.6 percent and that recent trading has been dire.
"Sales declines have accelerated but it is scant consolation that Moss Bros appears to be outperforming its market ... We believe that, for the most recent month or so, like-for-like sales have been around 10 percent down on last year's level," says Altium analyst David Stoddart, who cuts his annual pretax profit forecast for the group to a pretax loss of 5 million pounds from a loss of 1 million pounds.
2:10 p.m. BST - Land of Leather up on bid talk
Shares in Land of Leather soar 50 percent to 9.75 pence after the struggling furniture retailer says it has received approaches which could lead to an offer for the business.
Traders say the sofa chain, which has no debt, is being eyed by the Stancroft Trust, owned by Nicholas Berry, the millionaire son of former Daily Telegraph proprietor Lord Hartwell, and buyout business Sun European, which owns rival furniture retailer ScS Upholstery.
"Talk in the market is about bids coming from Sun Europe and the Stancroft Trust, which has a decent sized stake in ScS and Land of Leather and is known to be keen on combining the two businesses," traders at KBC Peel Hunt say.
"Land of Leather's market cap was 2.3 million pounds on Friday but now, since it has no debt, it is worth more like 6.8 million pounds, which equates to about 20 pence per share and there's a feeling that's the sort of level a bid would come in at," they say.
2:02 p.m. BST - JJB down as lender drafts in Grant Thornton
Shares in British sports retailer JJB Sports fall 15.4 percent to 22 pence on growing concerns about its future after a report in The Sunday Telegraph newspaper says Barclays Bank , which has lent JJB about 60 million pounds, has appointed Grant Thornton to advise it on JJB's future business plans.
An industry source confirms the validity of the report.
"This is not encouraging news," Altium analysts say in a note. But they say it is offset by more positive stories -- Friday's development that rival JD Sports Fashion was mulling a bid for JJB and Monday's confirmation that JJB has raised 3.4 million pounds by selling four store leases to Sports Direct International .
1:55 p.m. BST - Vyke up after distribution agreement
Shares in Vyke Communications add 6.7 percent after the mobile Voice over Internet Protocol (VoIP) service provider signs a deal with Hong Kong-based DEEN(HK) for the large scale distribution of the Vyke product suite across Asia.
FinnCap notes that Vyke will be able to leverage DEEN's strong distribution channels to expand across these regions and will, furthermore, gain access to DEEN's direct sales channels to target enterprise customers for VoIP services.
The broker says this should be profitable for Vyke as its customer acquisition costs are low and revenues per customer are typically higher than for the consumer segment.
FinnCap repeats its "buy" rating and near-term price target of 56 pence on Vyke based on a fair value estimate of 85 pence.
1:50 p.m. BST - Zetar drops on Woolworths exposure
Shares in Zetar shed 6.2 percent as the snack foods manufacturer confirms press reports that its confectionery division will be impacted by the demise of retailer Woolworths , which went into administration last week.
Zetar says Woolworths business represents around 3 percent of its turnover, and adds it is unclear how much of the sum outstanding to date from the collapsed retailer, totalling around 970,000 pounds, is irrecoverable.
In reaction, Shore Capital cuts its rating for Zetar to "sell" from "hold" as it now has concerns that with the sales momentum lost by the Woolworths collapse and a gloomy consumer outlook for next year there may be yet worse news to come from the group.
The broker says it considers it prudent to factor in a loss of the full amount outstanding from Woolworths and has therefore reduced its 2009 pretax profit forecast for Zetar by 16 percent to 5.1 million pounds.
1:35 p.m. BST - Claimar Care up after full year results
Shares in Claimar Care Group gain 10.8 percent following full year results which came in broadly in line with house broker Arden Partners revised expectations.
The broker notes that Claimar's pretax profit rose 32 percent to 2.82 million pounds, just below Arden's estimate of 2.9 million pounds, and whilst this was well below its initial expectations for the 2007/08 year, the broker says it draws encouragement from an improved performance in the second half.
Arden says it has cut its full year 2008/09 pretax profit forecast for Claimar to 3.7 million pounds from 4.0 million pounds primarily due to the increased cost of debt.
The broker says it believes Claimar is well placed to benefit from one of the key dynamics of the UK economy in 2009, the growing demand for employment particularly relating to the second household income, and this should enable the group to lever its strong reputation with the local authorities to build market share organically.
1:16 p.m. BST - Metalrax falls after profit warning
Shares in Metalrax Group fall 6.7 percent after the steel products supplier says its performance for the year ending December 31 will fall short of its previous expectations, and profits may be slightly lower than last year.
In a trading update, Metalrax says its trading environment had deteriorated further since the end of October as the global economic slowdown accelerated.
House broker Arden Partners points out that Metalrax's update highlights a number of operational issues that will result in fourth quarter 2008 trading being below expectations and it has adjusted its forecasts accordingly.
The broker has cut its 2008 pretax profit estimate for Metalrax by 37 percent to 2.1 million pounds from 3.2 million pounds, and reduced its 2009 forecast by 17 percent to 2.6 million pounds from 2.0 million pounds.
1:03 p.m. BST - EMED Mining rises 3 percent
Shares in AIM-listed minerals group EMED Mining rise 3 percent after it says it has struck gold at an exploration site in central Slovakia.
The firm estimates that mineral deposits at the drilling site could yield 1.2 million ounces of gold, while exploration at other prospects in the area offers "excellent potential" for large porphyry gold and copper-gold deposits.
In response, Fox Davies Capital repeats its "buy" rating and 29 pence target on EMED.
12:18 p.m. BST - FTSE Small Cap Index down 0.3 percent at midday
UK Small Cap Index .FTSC is 0.3 percent lower at midday, still outperforming the FTSE 100 .FTSE and the FTSE 250 .FTMC indexes, down 2.3 percent and 2.5 percent respectively.
New Star Asset Management is the top small cap faller, diving 56.1 percent after the fund manager's request for a suspension of trading in its shares pending the outcome of discussions with its bank syndicate is denied by the UK Listing Authority.
St Ives is a notable small cap gainer, up 11.4 percent, after the contract printer issues a cautiously reassuring Interim Management Statement, saying its first quarter results were broadly in line with expectations.
11:54 a.m. BST - Playtech gains 0.8 percent
Shares in Playtech gain rise 1.9 percent, outperforming gambling peers in a downward market as Collins Stewart reiterates its "buy" recommendation for the stock and sets a target price of 667 pence.
"We see Playtech as one of the few stocks in our universe with visible upgrade momentum," Collins Stewart says in a note.
Collins says the online gambling operator's double-digit top-line growth, upgrade momentum and 7.4 percent dividend yield represent a "highly attractive valuation."
© Thomson Reuters 2023 All rights reserved.