Jenny Packham, an Englishwoman in Paris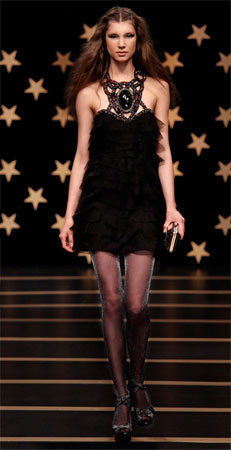 Jenny Packham - Autumn-Winter 2009/2010
After her boutiques in London, the most Hollywood of English designers has finally established herself in Paris. From this coming autumn she will be found next to the Elysée Palace at 2 Rue d'Aguesseau in her first French point of sale; a spot that promises to be essential for those regularly seen on the red carpet.
Hollywood Style Fashion Designer in 2006, British Dress Designer the year after, British Bridal Awards Designer in 2008;
Jenny Packham
has been accumulating prizes as well as celebrity clients. Even if, for the moment, her name remains little known in France, in Los Angeles, introductions and explanations are no longer necessary.
Beyoncé, Keira Knightley, Eva Longoria, Nelly Furtado, Jennifer Aniston, Heidi Klum and Halle Berry are just some of the stars seen on the red carpet decked out in Jenny Packham designs. Some in silk-satin, others in muslin or in tulle, yet others in sequins and coral colours or powdered pinks, gold, silver, black or immaculate white. Ultra-glamorous dresses which play with shapes and colours form the backgroup of the Hollywood spirit. If further clarification was needed, some of her designs have found their way to that hallowed ground of the silver screen, making their appearances in Sex and the City and The Devil Wears
Prada
.
Above all, Jenny Packham is counted amongst the rare favourites of the stars, whose media success is translated to tangible increased sales in stores. In the space of a few years, the designer has opened three boutiques in London – the latest one in Mayfair is considered as a flagship – not to mention department stores such as
Harrods
or
Bergdorf Goodman
which stock her ranges. A new adventure has now been launched in France and in anxious waiting for these ready-to-wear designs, the keenest French consumers can get an idea from the designer's line of wedding dresses, which are presented in the Parisian branch of Metal Flaque, a multi-brand luxury store.
By Jonathan Fulwell (Source: Emilie-Alice Fabrizi)
Copyright © 2023 FashionNetwork.com All rights reserved.