Esprit chairman to stay, in talks with CEO candidate
HONG KONG, March 31 (Reuters) - Fashion retailer Esprit (0330.HK) said on Tuesday March 31 its chairman Heinz Krogner will stay on as executive chairman until late 2010 and the company was in talks with a candidate to take on the role of chief executive, sending the stock up more than 5 percent.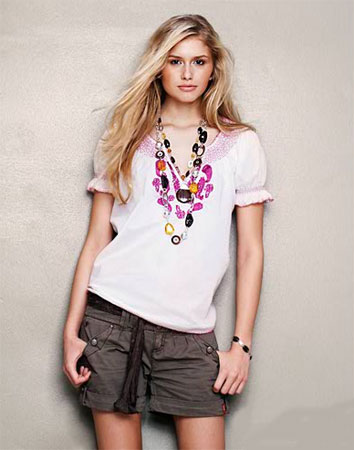 Esprit Shorts, Spring-Summer 2009
The world's No.6 fashion retailer said Krogner, who is chairman and chief executive, planned to remain as chairman until December 2010, but the company had not received notice of his resignation as CEO.
The stock, which slumped 17 percent in the last two trading days after a senior executive said last week he was leaving, was up 2.9 percent at HK$40.90 by 0320 GMT.
"We believe most investors would feel somewhat relieved post today's call with Esprit management, and the share price may rebound as a result," Morgan Stanley said in a research note, after an analyst call with Krogner late on Monday.
Morgan Stanley said Krogner's clarification on Esprit's strategy and the new management team "should provide some assurance to the market that the system is still intact".
Krogner said the changes and additions to management should help move Esprit to more of a "team show" from a "few men's show", the note said.
In a separate statement late on Monday, Esprit said it appointed Erik van Dijk, an executive at European fashion chain operator C&A, as global marketing director.
On Thursday, Esprit announced the surprise departure of director and president of brand operations, Thomas Grote. He is the third senior executive, after chief financial officer John Poon and North America operations head Jerome Griffith, to leave Esprit in the past year.
Analysts said news of Grote's sudden resignation heightened investor concern as the Europe-focused retailer is grappling with a recession in its key markets.
Grote, who was touted as a successor to 67-year old Krogner, resigned as a director but will stay on as president of brand operations until June 30.
HSBC on Monday reduced its rating on the stock to neutral from overweight after the share price topped its HK$47 target price last week, while Goldman Sachs downgraded Esprit to sell from neutral and cut its earnings estimate for the second half to June by 16 percent.
Esprit shares have fallen 7 percent so far in 2009, against a 5.7 percent drop in the broader market .HSI. (Editing by Ian Geoghegan)
© Thomson Reuters 2023 All rights reserved.