Vietnam urges EU not to extend duties on shoes
By Darren Ennis
BRUSSELS, Sept 15 (Reuters) - Vietnam led a chorus of calls on the European Union on Monday not to extend anti-dumping duties on Chinese and Vietnamese shoes, saying the measures were protectionist and had already cost tens of thousands of jobs.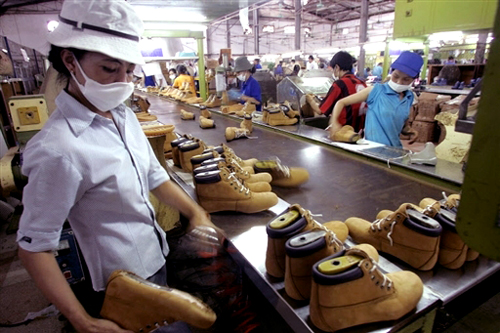 A fabric in Ho Chi Minh City - Photo : AFP
The 27-member bloc's executive Commission is set to keep the duties which were introduced for two years in 2006 and due to expire in October, while it reviews whether they are still necessary, people familiar with the matter said last week.
The introduction of the duties was opposed by the Asian exporters, some EU governments and leading international footwear companies that make shoes in China and Vietnam.
"We are not dumping leather shoes on the EU market," Vietnam's Deputy Industry and Trade Minister Le Danh Vinh said.
"The extension of these duties is unjust, runs against the spirit of trade liberalisation, is contrary to the objectives of alleviating hunger, harms competition and has already cost 40,000 jobs," he told reporters in Brussels.
The EU's executive European Commission has to announce by Oct. 7 any decision to review whether the duties -- 16.5 percent for leather shoes from China and 10 percent for Vietnam -- should be introduced for a second period or dropped.
A review may last as long as 15 months, during which time the duties remain in place. Italian shoemakers earlier this year formally asked for them to be renewed.
"In March, the Commission told us the duties would be scrapped after they expired, but there has been a submission to extend the duties which will only benefit some EU countries with their own interests," Vinh said.
Normally, EU anti-dumping duties last five years but the shoes case created so much controversy, with EU countries split down the middle on whether they were justified or merely protectionist, that a two-year compromise was approved instead.
Vinh's views were echoed in statements by European retail and consumer groups on Monday. Pan-EU consumer lobby BEUC described the duties as "wholly artificial and unjustified."
"For consumers, the prolongation of the footwear duties would put a further strain on their purchasing power. This would particularly hit low-income households," said Monique Goyens, BEUC Director General.
EuroCommerce, which represents the retail, wholesale and international trade sectors in Europe, and the European Association of Fashion Retailers (AEDT) said any extension "would be a regrettable setback for the industry". Trade experts from EU capitals will discuss the Commission's review plan on Wednesday but have no power to block it.
(Editing by Mark Trevelyan)
© Thomson Reuters 2022 All rights reserved.