Retail stocks fall on holiday shopping worries
By Martinne Geller
NEW YORK (Reuters) - Retailers that offer good value or the hottest products should come out on top this holiday season, while those that need deep discounts to lure shoppers could see earnings pressured, analysts said on Monday.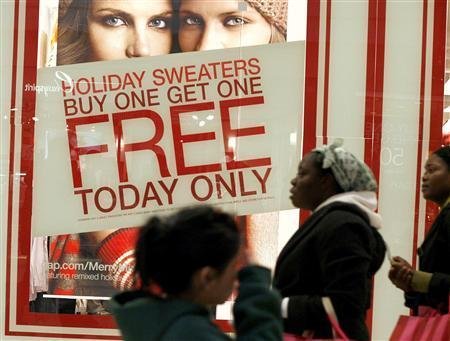 Fresh from the Black Friday weekend that kicked off the holiday shopping season in the United States, shares in retailers fell sharply on Monday.
The declines struck across the board, from discounters Wal-Mart Stores Inc and Target Corp to department store operators Macy's Inc and JC Penney Co Inc.
The Standard & Poor's Retail Index slid 9.3 percent, more than an 8.95 percent drop for the S&P 500 Index on signs of a deepening economic slump around the world.
Shoppers either went for discounts or specific hot products that don't necessarily need discounts to sell, such as iPods and UGG boots, analysts said.
"While it is difficult to separate the winners from the losers during a period of such low expectations, there were clearly standouts," said Lazard Capital Markets analyst Todd Slater.
He cited Wal-Mart, UGG boot maker Deckers Outdoor Corp, iPod maker Apple Inc and hip clothing chain American Apparel Inc. Slater rates Deckers, American Apparel and Wal-Mart a buy. He does not rate Apple.
Bradley Thomas, an analyst with KeyBanc Capital Markets, said "just about everybody in retail is going to be a loser this year and obviously the stocks reflect that right now."
That being said, Thomas cited Best Buy Co and hhgregg Inc as possible winners, since the consumer electronics chains could benefit as shoppers balk at buying from Circuit City Stores Inc, which has filed for bankruptcy.
JOYLESS SEASON FOR SOME
Thomas sees a joyless season ahead for home decor retailers Williams-Sonoma Inc and Pier 1 Imports Inc, since furniture sales have "fallen off a cliff."
He has underweight ratings on Pier 1 and Williams-Sonoma and buy ratings on Best Buy and hhgregg.
Many investors remained pessimistic about retailers after the National Bureau of Economic Research confirmed that the U.S. economy entered a recession last December.
"Investors are largely ignoring what individual companies did and what their prospects are and just selling everything," said Marshall Front, chairman of Front Barnett Associates, an investment counseling firm with $600 million under management.
Yet "those companies perceived to be among the strongest, which would be Wal-Mart and Kohl's Corp, have declined less (this year) and seem to be holding better," he said. The firm has shares in both Wal-Mart and Kohl's.
Early Black Friday results showed sales grew in stores and online, fueled by repeat trips, heavier online sales and deep discounts from retailers across the price spectrum.
Combined sales for Friday and Saturday rose 1.9 percent from a year ago, tracking firm ShopperTrak said on Monday.
"At this point, we anticipate sales levels will continue to slow this week as consumers will remain home, looking for additional holiday sales toward the end of the shortened 2008 season," said Bill Martin, co-founder of ShopperTrak.
"We thought mall traffic was good but lines were not as impressive as shoppers cherry-picked the best deals," said UBS analyst Roxanne Meyer about the start of holiday shopping. "We thought promotions would have been steeper, given retailers' inventory issues."
Retail promotions, such as American Eagle Outfitters' buy one top, get another one half-off, or Aeropostale Inc's 50 percent to 70 percent discount off all merchandise, were meant to drive customer traffic.
But such discounts eat into company margins, causing analysts to worry about quarterly profits. Investors will get a better view to that performance when some retailers report November same-store sales on Thursday.
"We remain concerned about fourth-quarter gross margin, given extremely heavy promotional activity," said Michelle Clark, a Morgan Stanley retail analyst.
(Additional reporting by Nicole Maestri in New York and Karen Jacobs in Atlanta; Editing by Dave Zimmerman, Leslie Gevirtz)
© Thomson Reuters 2023 All rights reserved.