Luxury Delhi conference put off over Mumbai attacks
PARIS (Reuters) - The International Herald Tribune has postponed a corporate luxury goods conference in New Delhi from next week until next year due to security concerns after attacks by gunmen in Mumbai killed more than 100 people.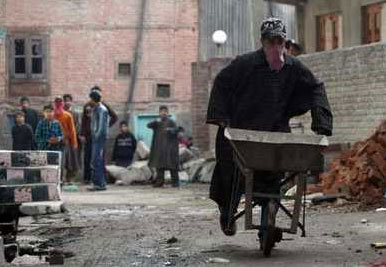 REUTERS/Fayaz Kabli
The IHT, part of the New York Times Media Group, was preparing to host several leading luxury sector executives, including Francois-Henri Pinault, chairman of French retail and luxury group PPR, and Indian Trade Minister Kamal Nath.
The event was scheduled to take place on December 2-4 at the Imperial Hotel in New Delhi.
"We had already put in place security measures but we are, of course, sensitive to the safety concerns of all our conference participants following the terrorist attacks on Mumbai," said Stephen Dunbar Johnson, Publisher of the IHT.
"We felt it was inappropriate to hold this conference at such a difficult time for India - but we plan to be back as soon as the situation is stabilized," he added in statement issued on Thursday.
Other keynote speakers included Christian Blanckaert, Executive Vice President of Hermes, Alain Dominique Perrin, Executive Director of Richemont as well as fashion designers for Balenciaga, Bottega Veneta and Roberto Cavalli.
The IHT said it was "fully committed to bringing its conference to New Delhi early next year."
(Reporting by Astrid Wendlandt)
© Thomson Reuters 2023 All rights reserved.