Italy's Damiani H1 core profit falls 56 pct
MILAN, Nov 26 (Reuters) - Italian jeweller Gruppo Damiani SpA posted a 56.5 percent fall in first-half core profit on Wednesday as sales decreased and operating costs rose.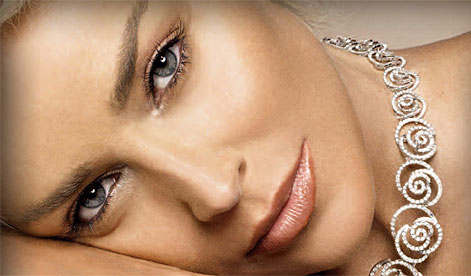 Sharon Stone for Damiani
Damiani said in a statement consolidated EBITDA -- earnings before interest, tax, depreciation and amortisation -- was 4.5 million euros for the first-half of the 2008/2009 financial year, ended Sept. 30.
Net profit fell 46.5 percent to 1.8 million euros.
Consolidated revenues fell more than 10 percent to 66.1 million euros.
Damiani said the comparative data for the previous year was net of 7.6 million euros of nonrecurring revenues related to two real estate transactions.
"The reduction in EBITDA ... in addition to the decrease in sales, is mainly due to an increase in operating costs, while the cost for raw materials and other materials ... remained substantially the same in terms of percentage of sales," it said.
By region, revenues in Italy fell 15.1 percent to 44 million euros. In the Americas, they rose 2.6 percent to 4.2 million euros. In Japan, revenues fell more than 8 percent to 4.5 million euros, while in the rest of the world, they rose 0.9 percent to 13.4 million euros.
"Some countries where the Group is increasing its presence, in particular the former Soviet Union Republics and the Middle East, are growing," it said.
Cracks have begun to appear in the luxury goods market with signs of cooling demand amid an economic downturn.
Fellow Italian jeweller Bulgari this month forecast a lower profit for the year and refrained from giving an outlook for 2009 after the crisis knocked 44 percent off its third-quarter net profit. (Editing by Brian Moss)
© Thomson Reuters 2023 All rights reserved.