Handbags and snoods help Burberry top forecasts
By Mark Potter
LONDON (Reuters) - Luxury goods group Burberry beat second-quarter revenue forecasts, helped by demand for handbags, leather goods and snoods, adding to signs of a consumer recovery and lifting its shares to a 21-month high.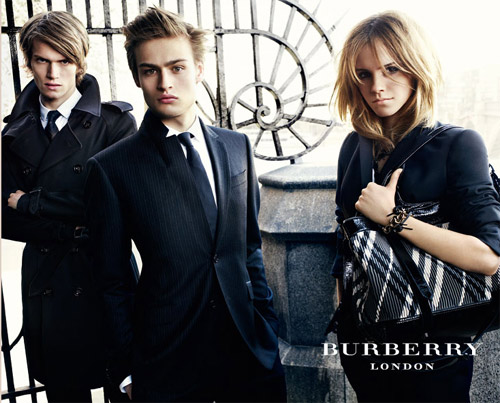 Burberry autumn-winter 2009/2010
The 153-year-old British maker of raincoats said the trading outlook remained uncertain, but also signaled an improvement in revenue trends for the second half, helped by market share gains in orders from U.S. department stores.
Finance director Stacey Cartwright said Wednesday 14 October she expected analysts' full-year consensus profit forecast to edge up, and Burberry shares were up 4.1 percent to 559 pence by 0845 GMT, their highest level since January 2008.
"They were better pretty much across the board," Evolution analyst Dennis Weber said of the second-quarter numbers.
He said while Burberry shares have rallied strongly, they still had room to rise as they are trading at 17.3 times earnings forecasts for next year, below rivals Richemont and Swatch on 18.3 and LVMH on 19.
Luxury goods firms have been hit hard in the recession, but Burberry, known for its camel, red and black check, reacted quickly by slashing costs, jobs, stock and range assortments.
Its 2010 spring/summer collection also received rave reviews last month at London fashion week, and there have been signs of a recovery in consumer spending. Euro zone retail sales fell a shallower than expected 0.2 percent in August.
LVMH and PPR publish trading updates next week.
IMPROVING TRENDS
Burberry said it had revenue of 343 million pounds ($548 million) in the three months ended September 30, down 5 percent at constant currencies but beating forecasts of 320-335 million in a Reuters poll.
Retail revenue rose an underlying 16 percent to 163 million pounds, including like-for-like growth of 5 percent, as double-digit percentage rises in Europe and Asia offset similar-sized declines in the United States and Spain.
Growth was strongest in Britain and South Korea as tourists were attracted by weaker currencies and refurbished shops.
Cartwright said the group was also pleased with the proportion of goods sold at full price in the second quarter, which she said would boost gross profit margin.
Citi analysts said the full-year consensus profit forecast was likely to rise about 5 percent to 185 million pounds.
Burberry, which runs 122 retail outlets, 255 concessions, 90 franchise stores and an e-commerce business in over 25 countries, said it expected to open about 15 mainline stores over the full year, at the top end of its previous guidance.
Wholesale revenue fell an underlying 21 percent in the second quarter, while licensing revenue was down 9 percent.
Burberry said it expected second-half wholesale revenue would fall an underlying 15 percent and raised its full-year guidance for licensing revenue to a decline of 5-10 percent from a fall of 10-15 percent previously.
Cartwright said second-half wholesale revenues would be down around 7 percent excluding the impact of a previously announced decision to close some accounts.
Wholesales revenues were down less than 7 percent in the United States, but were higher in Spain, she said.
Burberry shares re-entered Britain's benchmark FTSE-100 index last month.
(Editing by David Holmes and Dan Lalor)
($1 = 0.6259 pound)
© Thomson Reuters 2022 All rights reserved.