Eco-sellers gaining pace with mainstream buyers
By Alexandria Sage
LAS VEGAS (Reuters) - The move to more sustainable, earth-friendly clothing, shoes and other consumer goods may be at a "tipping point" of mainstream acceptance, and major companies like Nike and eBay are recognizing their growing importance among global shoppers.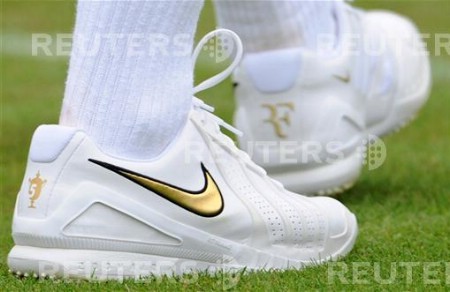 Green is now a major marketing tool, with companies from British Petroleum advertising alternative energy to Wal-Mart Stores Inc's offering more organic goods. Moreover, the green movement is no longer the exclusive domain of the granola-eating, Birkenstock-wearing crowd, insiders say.
"I believe we're at a tipping point in the green market," said Marci Zaroff, president of clothing, home goods and spa line Under the Canopy, who first coined the phrase "ECOfashion."
Other companies who have recognized the shift include Clorox , which sees its new higher-margin, eco-friendly line of cleaning products as a multi-hundred million dollar business over time, or Whole Foods Market , which has built its business on organic foods.
On Tuesday, global auction giant eBay said it was launching WorldofGood.com by eBay that will offer "socially responsible" goods verified by third parties, whether animal-friendly cosmetics, fair trade coffee, organic apparel, or home decor made from recycled materials.
"The market space right now is large but highly fragmented," said Robert Chatwani, general manager of the new venture. "Consumers cannot discover these products very easily through traditional channels."
Last week, the Magic Marketplace apparel trade show, the largest such show in the United States, held its first-ever ECOllection in Las Vegas with some 70 exhibitors showing off their eco-friendly wares.
One exhibitor, Nadine Curtis, owner of the Be Sweet line of clothing and accessories, works with South African job creation programs to support local artisans using handcrafted yarn.
"In the next three to five years it will be standard fare that companies will have an eco-collection ... or people will have to have it in their main lines in order to compete," said Curtis, who is a member of the Fair Trade Federation, which promotes fair local wages, environmental sustainability and community building.
According to market research firm NPD Group, the number of people interested in environmentally sound apparel has risen 300 percent since 2003. Meanwhile, the organic product market has grown from $11 billion to $30 billion in the past five years, Zaroff said.
And whereas such goods sometimes cost more -- clothing using organic or recycled fabrics carries a 15 percent premium in price at menswear maker Louis Raphael, for example -- some say the time may be right, despite the U.S. economic downturn, for even more consumer acceptance.
"In today's economy, people are looking for a reason to buy," said Zaroff. "It (the green movement) almost gives them a reason to buy."
EBay's Chatwani said that for most green sellers, higher prices are due to inefficient distribution: "The industry hasn't reached a point of scale yet. We're hoping within the first year of this marketplace we'll actually be able to drive a lot of supply chain efficiency."
Smaller companies also face challenges in securing credit, said Brent Celestin, managing director of Fullcourt Funding.
"With today's constricting credit markets, only the most financially adept companies are going to access external working capital to support their go forward growth," he said.
But key to acceptance among consumers is that products should not necessarily "look" green or offer inferior styling to rival, non-green products on the market, insiders said.
"As long as green remains niche in terms of look and performance, it will not go mainstream," said Hannah Jones, vice president of corporate responsibility for Nike, the largest athletic apparel and footwear company in the world.
Jones, speaking at a trade show seminar, cited the new Air Jordan XX3 sneaker that uses recycled bottles and scrap materials with no toxic adhesives, but is a performance shoe that looks clean and modern.
Nike, which generates some $800 million in waste per year, Jones said, is shifting its business model to become climate neutral by 2011. Its shoes that retail for less than $70 will be designed with environmental sustainability in mind by summer of 2009 "with absolutely no impact to margins," Jones said.
Andy Krumholz, owner of Escama Studio which makes sleek bags in Brazil out of recycled soda can pull-tabs, said that with the flood of new green products on the market, companies have to differentiate themselves other than by just being green.
"By beating people over the head by saying 'I'm green! I'm green!' you're trying to scream over a crowd," he said.
© Thomson Reuters 2023 All rights reserved.