Crinolines -- for the well-dressed woman in a hurry
PARIS, Nov 29, 2008 (AFP) - Crinolines, those romantic fairytale dresses familiar in 19th century society portraits, look for all the world as if they belonged to a more leisurely age.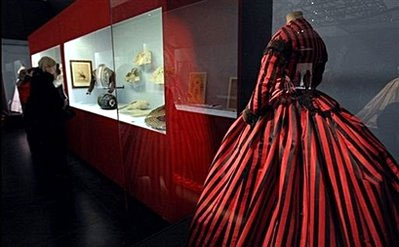 People visit a crinoline exhibit in Paris - Photo : Pierre Verdy/AFP
But that was far from the case, says Catherine Join-Deiterle, who has curated an exhibition on the subject at the Musee
Galliera
, the French capital's fashion museum.
Being "time poor" is not a new phenomenon: women in the 1850s were already complaining there were not enough hours in the day to fulfil all their duties and obligations.
"Wealthy women, with husbands with a position in society, led lives at a dizzying pace. They were expected to get up at eight to give the servants their orders for the day. Then they might go out shopping, or meet friends, go to a reception, then have dinner and attend the opera or a ball. They would not be in bed before 2.00 am."
For all these different social engagements they needed to change garments, as many as five times a day.
Given that the cumbersome crinoline needed at least one other person's help to be put on, the only solution was to keep the same skirt on all day but vary the blouse or "corsage" on top, which was also an economy as one skirt did duty for several outfits.
During the day long sleeves were obligatory and breasts demurely covered. But for dinner, a little cleavage was allowed, and for balls and the opera, bare shoulders and a generous decollete were de rigueur. Essentially, the more important the social occasion, the more flesh on display.
If women were in a hurry, they would slip something across their bust for decency in daytime, which could be removed in the evening.
In the same spirit, there was a device for hitching up the crinoline skirt to prevent the hem getting muddy and enable the wearer to hurry from appointment to appointment.
Balls were very important events during the Second Empire, under Napoleon III and the Empress Eugenie, who was a great fashion leader, the Princess Diana of her day. Many of the most valuable items on display belonged to her or her entourage.
The exhibition opens with ball gowns presented as if in a grand private salon, together with the appropriate accessories. Absolute essentials were a fan, a handkerchief, a bouquet of fresh or artificial flowers and a "carnet de bal", a tiny notebook, often an exquisite object, in which a lady wrote down the names of the young men who had requested dances.
All these items had to be juggled at once, so it was not surprising that someone had the bright idea of incorporating a bouquet holder into a fan and took out a patent.
"They adored anything which had several functions, like a parasol which could double as a fan," says Join-Deiterle.
As France underwent its industrial revolution, about a decade after Britain, there was an appetite for novelty. Machine-made lace and passementerie, which could be bought by the metre to trim a dress, and the brasher new industrial dyes were popular. Even fake fur and celluloid, a precursor to plastic, began to be used.
The crinoline, which first appeared in 1845, was originally made of whalebone and horsehair, or "crin", from which it got its name, but a new metal version from America caught on immediately: five million were sold in 1860.
The crinoline, around until 1861 flattened in front and elongated at the back, dictated the appearance of women's figures, which looked quite different from today.
The fashion was for wasp waists and smoothly rounded bodices, achieved by strategically placed little cushions on the inside.
"To display the dresses properly we had to have tailor's dummies made especially to fit them, a sort of reverse haute couture," explains Join-Deiterle.
Daywear and accessories, from shoes to cashmere shawls, hats and folding umbrellas, are laid out as if on sale in one of the big department stores like "Au Printemps", which began to open their doors in the mid 19th century.
That was also the period when Paris began to establish itself as the world capital of luxury, with the likes of the jewellers Cartier and Boucheron and perfumer Guerlain.
The final room showcases jewellery of the era to a backdrop photograph of the Place Vendome, still home to the most exclusive shops today.
The exhibition is open from November 29 to April 26.by Sarah Shard
Copyright © 2023 AFP. All rights reserved. All information displayed in this section (dispatches, photographs, logos) are protected by intellectual property rights owned by Agence France-Presse. As a consequence you may not copy, reproduce, modify, transmit, publish, display or in any way commercially exploit any of the contents of this section without the prior written consent of Agence France-Presses.